The officially sanctioned Sane Magazine wallpaper! Wow! Now with more! More of them! Woo!





bmp bmp bmp bmp
Suitable for framing.
---
NEW! We now have a screensaver for those of you on Mac OS X 10.4 (Tiger).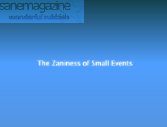 If you're not one of these bleeding edge people, you're out of luck.
If you are, download the screensaver and place it in your ~/Library/Screen Savers/ folder. If you don't know what this means, don't worry, we'll have an installer for you soon enough. Once you've done that you should then go to your Desktop & Screen Saver system preference. Under the Screen Saver tab you should now have a Screen Saver called SaneMagazinScre… Select that as your screensaver and your life will be complete.
For those of you without Tiger, for your viewing pleasure, we have a few movies for you so you can see what you're missing: the small version (4.2 MB) and the big version (17 MB) (Quicktime needed.).
We also have, for your enjoyment (though somewhat unthrilling enjoyment, to tell the truth), the old screensaver.



PC 1.5MB
NB. There's a good chance this won't look good at all on your computer. Especially if you've a Mac or Unix machine, as it's currently, sadly, Windows only. And we've sacked the poxy little intern that knew director and had been working on it, liked to have his monitor set to 1280×1024 resolution, had, for some unknown reason, the whizziest computer in the office, and the most incredibly smarmy attitude for someone who just happened to tinker with computers but hadn't yet had a paying job. Both the smarmy attitude and the possession of the whizziest computer were the reasons for his dismissal. And since we no longer have a PC in the office, we have no idea if this thing still works.